Plasmolifting procedure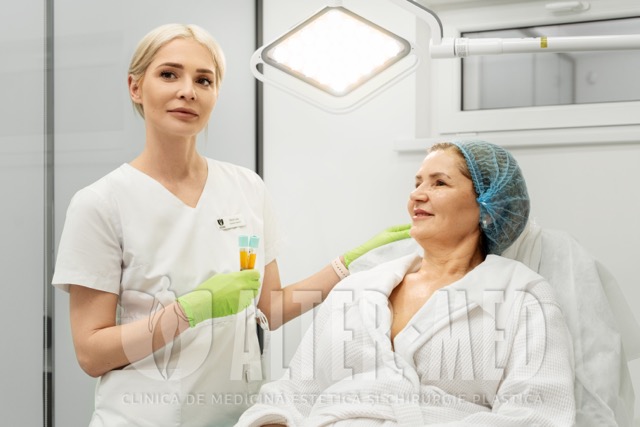 Plasmolifting – injection of own plasma for the purpose of regeneration, rejuvenation. Treatment of alopecia, treatment of pigmented spots.
Method of plasmolifting consists of: patient's blood sampling that further will be centrifuged in the patented tubes. Separated plasma, being rich in vitamins, growth factors, minerals, proteins, is introduced with the help of thin needles into the problem area.
Recommendations before the procedure: do not eat (hunger) for 3-4 hours before the procedure, drink as much liquid as possible.
Effects of plasmolifting:

revitalization and recovery of cells;
smoothing and improvement of wrinkles and small lines;
stimulation of collagen production

You need plasmolifting if:

you have already noticed the first signs of aging,
you have pigmented spots,
you have acne,
you have scars after acne,
sensitive-allergic skin of the face,
you want to recover faster after the surgical intervention,
your hair falls out.

The procedure is recommended within the course of treatment, 3-4 sessions are performed every 7-10 days.
The duration of the procedure is 40 minutes
The advertising price is 1250 lei.
---
Benefits:
The procedure is performed by the advanced practice doctor dermato-cosmetologist.
At the consultation the doctor will establish the plan of dermato-cosmetological treatment, will provide information on the correct skin care.
For appointment call 022 58 98 22