Otoplasty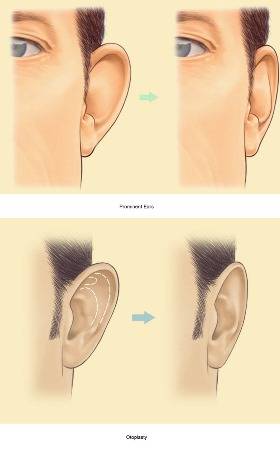 Otoplasty (plastic reconstruction of ears) – correction of the auricle of protruding ears, ear lobes and formation of an aesthetic anatomical auricle.
Method consists of: surgical correction of the "protruding ears" and formation of aesthetic auricle.
Anaesthesia: potentiated local.
Day patient facility: 4 hours after the intervention.
Preoperative preparation: a standard set of investigations for local anaesthesia.
Recovery: 10 days.
Postoperative recommendations: avoidance of traumas in the given area.
---
Benefits:
The surgeons of "Alter-MED" perform several techniques of the correction of ear pavilions in order to obtain the most natural result.
The surgeon will monitor the patient after intervention for 1 year.
The price is determined individually following a consultation.
Prices:
Otoplasty varies between 800-1500 euros (according to the BNM exchange rate)
    
Otoplasty of both ears
    
One-ear otoplasty
    
Cocha height reduction
For appointment call 022 58 98 22