Blepharoplasty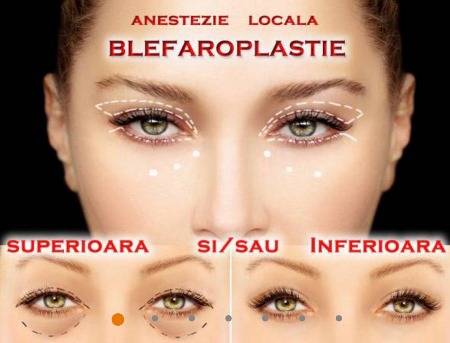 Blepharoplasty (plastic reconstruction of eyelids) – removal of excessive skin at the level of eyelids, removal of blue shadows under the eyes (hernia).
Method consists of: removal of excessive skin, fat and muscles at the level of the upper or lower eyelid. With the help of this intervention, you can get rid of:

the appearance of the beetling upper eyelid,
blue shadows at the level of the lower eyelid (swollen lower eyelid)
unwanted wrinkles around the eyes.

Anaesthesia: the intervention is performed under local anaesthesia.
Day patient facility: 4 hours after the intervention.
Preoperative preparation: a standard set for investigations for local anaesthesia.
Recovery: 7-10 days.
Post-operative recommendations: for 24 hours avoid action requiring eye strain, exposure to hot steam.
---
Benefits:
It is the most popular procedure in the correction of the signs of aging.
The surgeons of the Clinic "Alter-MED" performed over 2000 classical as well as innovative interventions.
The surgeon will monitor the patient after intervention for 1 year.
The price is determined during the first consultation individually.
Prices:
Blepharoplasty of the upper eyelids: 1000 euros (according to the BNM exchange rate)
Blepharoplasty of the lower eyelids: 1200 euros (according to the BNM exchange rate)
Double blepharoplasty: 2100 euros (according to the BNM exchange rate)
For appointment call 022 58 98 22