Abdominoplasty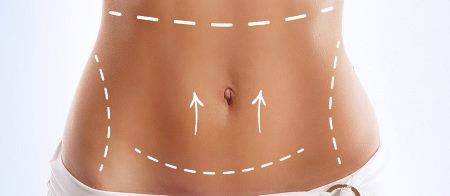 Abdominoplasty - liposuction, removal of excessive skin in the area of abdomen, adjustment of diastase of the rectus abdominis muscles.
Method consists of: the removal of excessive skin and fat deposits accumulated at the level of abdomen after weight gain, pregnancy or aging, as well as strengthening of abdominal muscles.
Thanks to this intervention, the abdomen is remodelled, a harmonious silhouette is formed.
Anaesthesia: general.
Inpatient facility: 2 nights after the intervention.
Preliminary preparation: evacuation clusters, a standard set of investigations for general anaesthesia.
Recovery: 3-4 weeks.
Postoperative recommendations: shape underwear, stage bandage.
---
Benefits:
The surgeons of "Alter-MED" have Patents for inventions in abdominal plastic surgery.
Obtainment of qualitative result is determined by a primary visual consultation.
The surgeon will monitor the patient after intervention for 1 year.
The price is determined during the first consultation individually.
Prices:
Abdominoplasty varies between 1500-3000 euros (according to the BNM exchange rate)
For appointment call 022 58 98 22